Top 10 New Orleans Paddlewheels Events of 2015
December 21 2015 |
Blog
This year brought a lot of great events and customers to the companies of Hospitality Enterprises, including the Paddlewheeler Creole Queen and Jean Lafitte Swamp Tour. As we approach a new year, we look back on some of the best moments and experiences of 2015. Cheers to a wonderful year and here's to an even bigger and better 2016!
Best of the Creole Queen and Jean Lafitte Swamp Tour in 2015
1. Celebrity Visits at Jean Lafitte Swamp Tour – We had quite a few celebrity encounters at the swamp this year. Actor and King of Bacchus this year, John C. Reilly took a private sunset swamp tour, NCIS New Orleans used our swamp tour as a film set, the Pelicans' Ryan Anderson stopped by, and the Scream Queens star Billie Lourd took an airboat tour.
2. Annual Holiday Cruises on Creole Queen – Every year, we celebrate the holidays with a special cruise on the Paddlewheeler Creole Queen. The Cajun Holiday Tea with Papa Noel and Hoppin on the River cruises are family favorites. The New Year's Eve and Fourth of July cruises offer a unique way to see the fireworks and party on the river. This year, we also hosted a Witchcraft and Whimsy Halloween cruise with enchanting entertainment.
3. New Creole Queen Historical Cruise – This year, we reintroduced our Historical Cruise with an additional daily cruise time, offering two Historical cruises total every single day. Each cruise has the same delicious Creole buffet with all the New Orleans favorites you could ask for. Best of all, each Historical Cruise features an expert historical guide who brings the cruise to life and provides a lively, fun and educational experience for all our guests.
4. Battle of New Orleans Bicentennial – The year 2015 marked the Bicentennial of the Battle of New Orleans. The 200th anniversary celebrated the successful battle which was important to the American victory of the War of 1812. The Creole Queen brought hundreds of guests to the Chalmette Battlefield on multiple daily cruises during the three days of official National Park Service bicentennial events.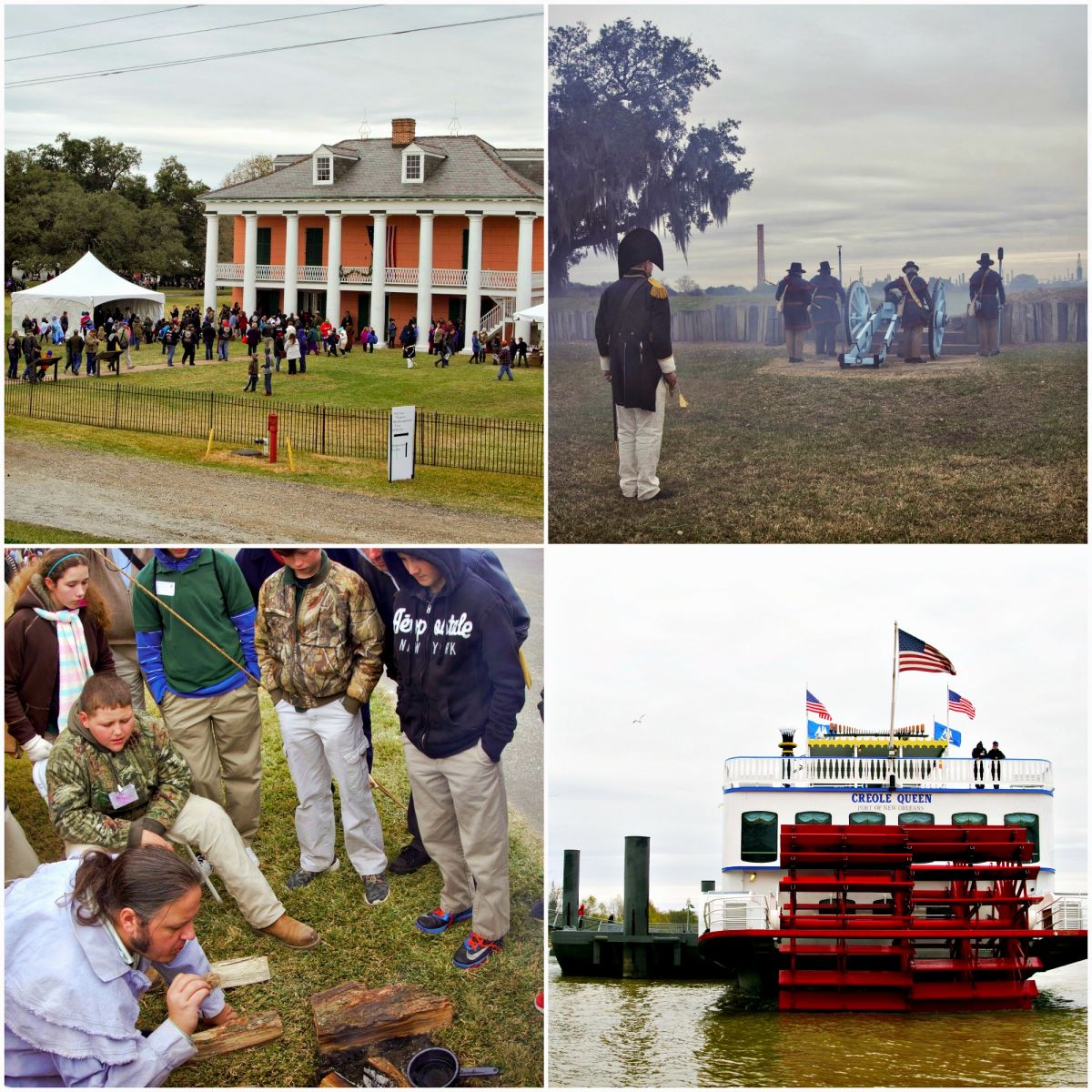 5. Sunshine Kids – One of the special groups we look forward to entertaining every year is the Sunshine Kids Foundation, an organization which provides exciting and positive activities and experiences for children with cancer. This year, we were delighted to host them on a private Jean Lafitte Swamp Tour and transport them from place to place on our New Orleans Tours buses.
6. CertainTeed Ceilings Corporation – This year, CertainTeed enjoyed an awesome crawfish boil out at our partner New Orleans Airboat Tours. Can't beat a boil at the swamp for a one of a kind Louisiana Cajun experience for your group.
7. Sugar Bowl – Every year, our sister company Destination Management, Inc. offers ticket and hotel packages for the Allstate Sugar Bowl in New Orleans. In addition, our New Orleans Tours buses provide the official transportation for each team in the competition. In 2015, the Sugar Bowl teams were Ohio State and Alabama. The Paddlewheeler Creole Queen was thrilled to host the Ohio State Buckeyes pre-party on the Creole Queen.
8. Dulai/Hothi Engagement Party – In December, we hosted a very festive engagement party for the Dulai and Hothi families on the Creole Queen. It was a great group dressed in gorgeous attire who danced the night away to live drumming and music.
9. Girls Junior National Volleyball Championship – This summer, the USA Volleyball Girls' Junior National Championships (GJNC) came to New Orleans. The tournament brought 13,000 athletes and over 25,000 spectators. The Jean Lafitte Swamp Tour happily hosted several teams for fun swamp tours during their down time, including the Absolute Volleyball Club's 11 Black, Forza1 North 13 ASICS and Red Rock Volleyball Club's 16-1.
10. NOLA Navy Week at the Swamp – NOLA Navy Week returned to New Orleans in 2015 in April, bringing ships from the U.S. Navy, Coast Guard, Great Britain and Canada to the Port of New Orleans on the Mississippi River. The Jean Lafitte Swamp Tour was honored to host a group in town for NOLA Navy Week for a private swamp tour and crawfish boil.