Inside the Paddlewheeler Creole Queen
May 5 2015 |
Blog
The Paddlewheeler Creole Queen is not only an authentic riverboat that cruises the Mississippi, it's the most unique venue in New Orleans. We can turn our boat into a floating party which can accomodate groups of any size in different unique sections of the vessel. Throw in a band, hors d'ouevres or a full buffet and cocktails, combined with access to the refreshing river breeze and expansive views of New Orleans and you have the makings for one unforgettable event. Check out our different options for private rooms that make up the interior of the Creole Queen and start planning your next special occasion, whether it's a wedding or a birthday party and anything in between.
Private Rooms on the Paddlewheeler Creole Queen
Rex Room
The Rex Room can accomodate 10-24 guests and is perfect for agency retreats, bridal luncheons or other small gatherings.
King's Room
A step up in size from the Rex Room, the King's Room can accomodate 64-100 guests. The King's Room comes equipped with a full bar, a great view of the big red paddlewheel and can house live entertainment.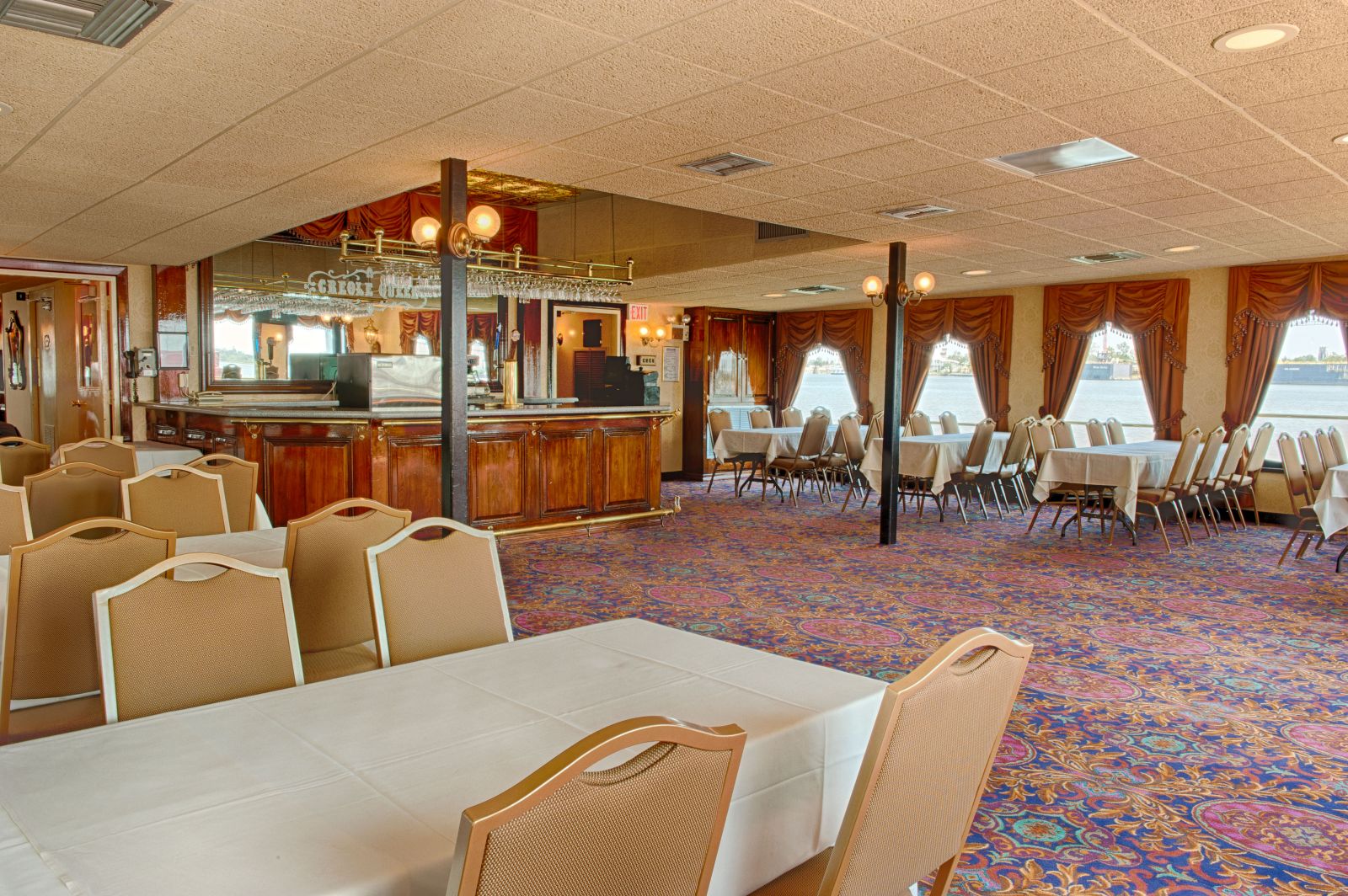 Queen's Room
Located on the mid deck of the Creole Queen, the Queen's Room can accomodate 92-150 guests. Surrounded by large windows, everyone can enjoy ample views of the Mighty Mississippi.
Creole Room
The largest of the private rooms on the Creole Queen, the Creole Room can accomodate 220-350 guests, With a stage, a full bar, plenty of room and beautiful views, the Creole Room is the ideal option for large parties and events.
Promenade Deck
The Promenade Deck can accommodate 200 guests in a reception-style format. This is the ideal option for groups who want to bask in the outdoor river air and enjoy amazing views of the Mississippi and the city.
Take your pick of our variety of private rental options, or for the motherload, rent the entire vessel for the ultimate riverboat party for 400-800 guests. Contact us for more details on menu options, beverage packages and entertainment available to reserve for your next incredible party on the Paddlewheeler Creole Queen.