10 Facts About the Paddlewheeler Creole Queen
April 28 2016 |
Blog
The Paddlewheeler Creole Queen has a lot to offer when it comes to experiencing New Orleans. These 10 facts and characteristics are your crash course intro to what makes this riverboat so unique.
Paddlewheel – The Creole Queen's signature feature is of course its big red paddlewheel which propels it down the river. The paddlewheel is 24 feet in diameter and mesmerizing to watch in action.
Individual dining rooms – One of the great things about the Creole Queen is the variety of elegant dining rooms, making it an excellent option for parties and exploring different parts of the boat. With the King's, Queen's, Creole and Rex rooms to choose from, there's a room for any size party or several options to create different aspects of one big party!
Weddings with ordained captains – The Creole Queen is a beautiful and unique venue for a wedding. Our captains are licensed and ordained to officiate weddings and each component of the wedding, from the rehearsal dinner to the ceremony, reception, dinner, bar, band and flowers can be arranged by our professional wedding coordinator.
Holiday and themed cruises – Just like New Orleans as a city, the Creole Queen celebrates each holiday and special occasion in its own unique way. Check out all our holiday and themed cruises on the Mississippi.
Private parties – With several different options of rooms to rent out, or even the entire boat and the promenade deck, the Creole Queen can host a party big or small. Parties can be completely customized with excellent food and bar package options as well as entertainment and décor. No idea or theme is out of reach!
Ideal location – The Creole Queen is docked on the riverfront right by all the downtown hotels and the French Quarter, conveniently placed in the middle of all the action.
#1 Riverboat Attraction in New Orleans on TripAdvisor – With consistent positive reviews on TripAdvisor from our cruise guests, the Paddlewheeler Creole Queen is currently the highest ranked riverboat tour in New Orleans!
Daily visits to a national park – The Creole Queen is lucky enough to visit the historic Chalmette Battlefield, part of the Jean Lafitte National Park and Preserve, every day as part of its Historical Cruise program. Guests have the chance to explore the battlefield, guided by National Park rangers.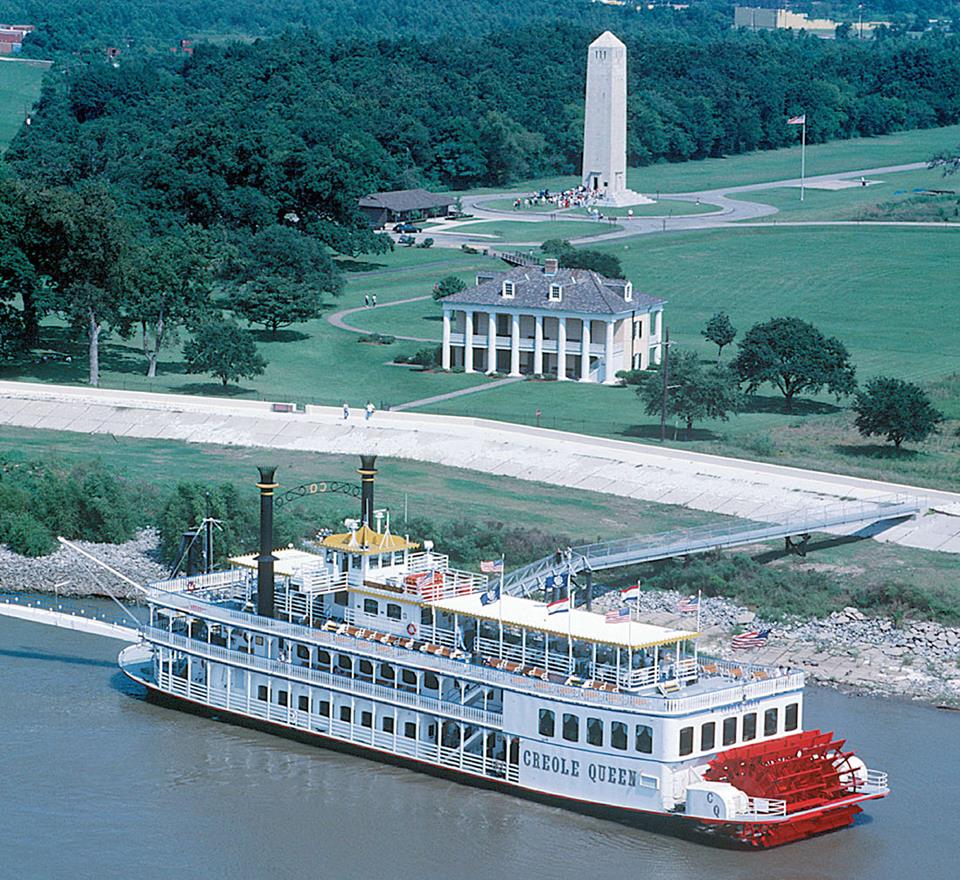 Morning cruise drink specials – For just $10, guests can enjoy bottomless mimosas and Bloody Mary cocktails on all 10:00 a.m. Historical cruises!
Unique perspective – Usually, visitors are experiencing New Orleans on the ground, one place at a time. On board the Creole Queen, passengers get a view of iconic landmarks along the French Quarter, as well as pass the Marigny and Bywater neighborhoods, followed by Holy Cross on the way to the Chalmette Battlefield and back.